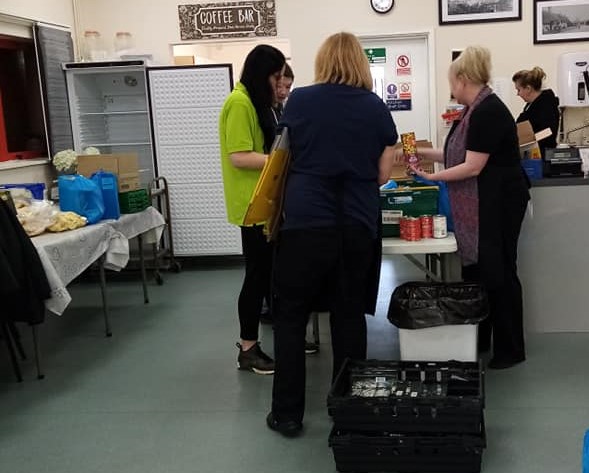 The Autumn Centre
30 April 2020
The Autumn Centre in Corby is a not-for-profit charity for the over 50s. Boasting hundreds of members it is a lifeline to many older people offering an extensive range of daily activities to keep members minds and bodies active.
Lee McCormick, Centre Manager, explains, 'The centre is so important to so many people and they are very important to us! We offer lots of things to do for our members living with dementia including our Memory Lane café & our 1950s meal experience booth. Taking a step back in time & reminiscing is great for the memory.
'We also offer a falls prevention programme called Otago, a weigh-in clinic, blood pressure checks, Foot health twice a month whist offering healthy well balanced meals, nutritional advice and we even have a drop-in smoking advisor on site.'
When Covid19 took hold, to keep everyone safe, the centre had no choice but to close, but that did not stop the team from making sure their members are OK.
'Like most organisations, we had to find a way to take our services online, says Lee.
'We have now uploaded exercise sessions onto our Facebook page and quizzes for our members in order to stay connected and to stay mentally well as physically well. We will also be uploading our Otago falls prevention on to YouTube to reach our members who are not on Social Media. We will keep coming up with inventive ideas to keep our members happy as they are so important to us
'In these worrying times and during lockdown, we make companion calls every two days to our most vulnerable members to check they are ok and to see if they need anything, such as prescriptions collected, loneliness chat or a food care package delivery. Every Monday we deliver food packages to any of our members in need.
'Our centre may be closed to our members but the staff here are making up care packages which we will be out delivering to help our members during this difficult time.'
For more information about the Autumn Centre, please contact:
Lee McCormick, Centre Manager
The Autumn Centre
Counts Farm Road
Corby
Northamptonshire
NN18 8BH
Email: [email protected]
Phone: 01536 264671
https://www.theautumncentre.co.uk/
Our causes are on track to raise £28,267.20 this year
906 tickets of our 4,275 ticket goal
Our causes are on track to raise £28,267.20 this year
906 tickets of our 4,275 ticket goal